Making help and support immediately accessible
Do the things you've always done with the security of Freedom Medical Alarms. Read below to find out how our products work.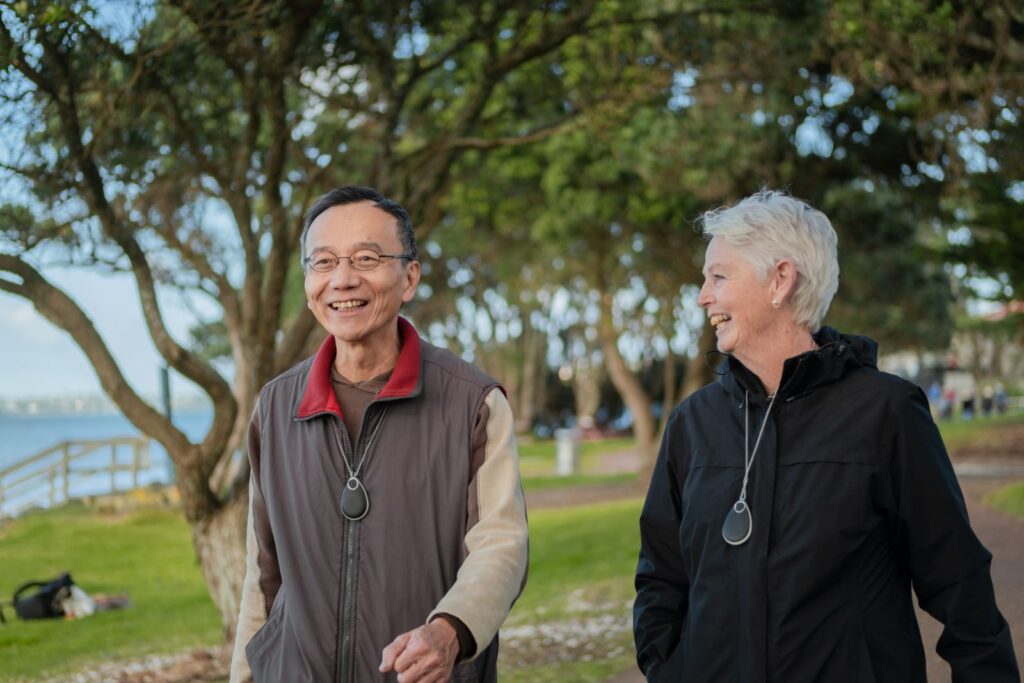 How does a Freedom Medical Alarm work?
Having a Freedom Medical Alarm means that you always have a way to seek expert emergency medical attention quickly, even if you can't access your phone, thanks to a discreet pendant that can be worn around your neck, on your wrist, or attached to a brooch, belt, or wheelchair. 
Pressing the button on the pendant sends a signal to the base unit, which is connected to a standard phone line or the mobile cellular network. The base unit then makes a short pre-alarm warning sound before it sends a help signal to trained emergency ambulance communications operators. The operator will then try to phone you; even if you can't reach your phone, a two-way speaker system in the base unit lets you speak to the operator directly.
Once they're in touch, the operator will take you through an emergency triage process to ensure you receive the right care in the right timeframe. If the operator is unable to contact you, or if you need urgent medical attention, an ambulance will be dispatched immediately.
If your phone line is engaged, don't worry, as the base unit can override other calls automatically. In the case of a false alert, the 15-second "pre-alarm" gives you a chance to cancel the activation by pressing the "cancel" button on the base unit.
The pendants are robust and fully waterproof in both hot and cold water. Wearing them in the bath or shower is recommended, as this is where most slips and falls occur. They have a 350-metre range in optimum conditions, so they should work wherever you are on your property.
The equipment used by the Freedom Medical Alarm service is created by Chiptech, a wholly New Zealand-owned company based in Christchurch that specialises in the design and manufacture of leading-edge medical alarm technology.
For more information on the equipment that Freedom Medical Alarm utilisies, visit the Equipment page.
What funding is available?
Freedom Medical Alarms is a Work and Income New Zealand (WINZ) accredited supplier, approved by the Ministry of Social Development (MSD). You could get your medical alarm system fully funded, if you are eligible for the WINZ Disability Allowance.
Work and Income 
Clients may be eligible for funding from WINZ through the Disability Allowance.
If you meet the criteria but are not currently receiving the Disability Allowance, you'll need to complete this Disability Allowance Application form – our team can help you apply, and answer any questions you might have.
To receive funding for a medical alarm, you will also need to submit a Medical Alarm Assessment form, signed by your doctor
Accident Compensation Corporation (ACC)  
Ask your Case Manager to find out if you're eligible for funding for a medical alarm, if you are recovering from an accident.
If you are not eligible for funding, you still have the opportunity to access a medical alarm: a private rental of our home-based units starts from just $15.25 per week. This price includes equipment lease, installation, 24/7 monitoring and ongoing maintenance.
For help figuring out your best options, call our team today on 0800 380 280.
Freedom Medical Alarms Products